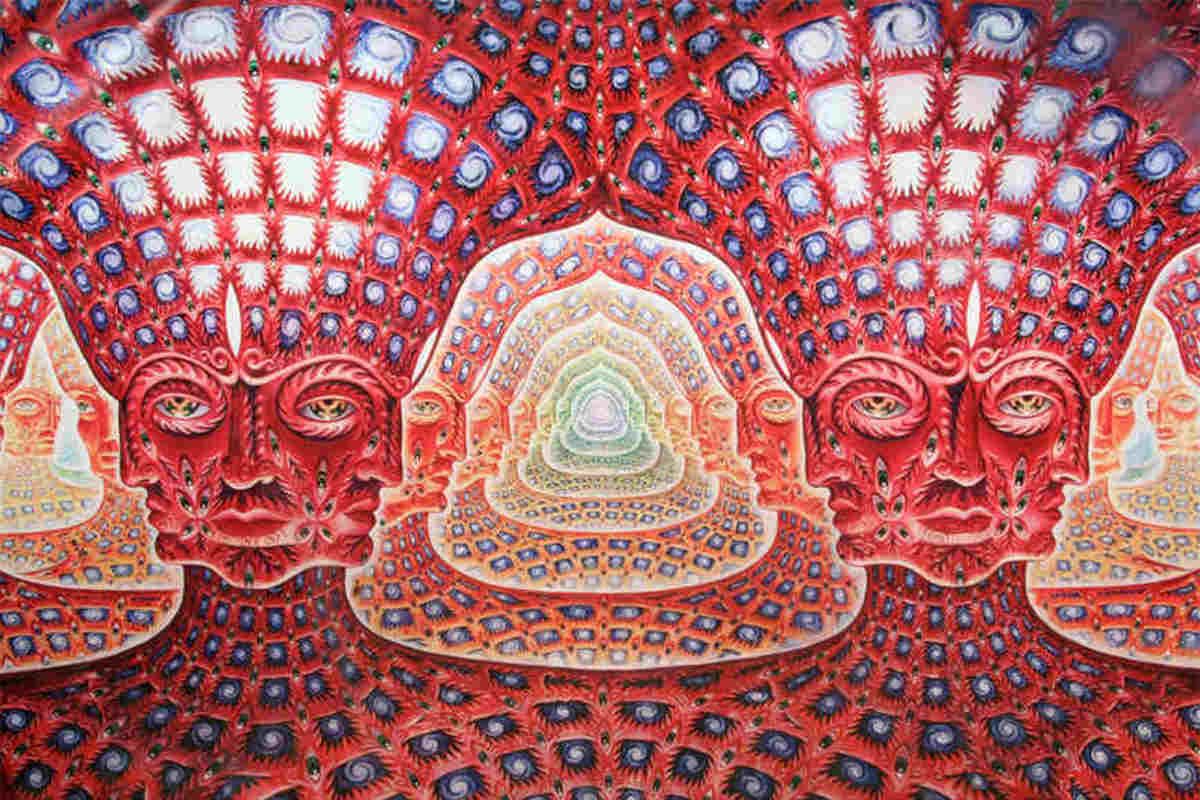 Yesterday I watched a Ted Talk discussing the effects of psychedelic substances on the brain. I clicked on this video absentmindedly, not really expecting it to tell me anything I hadn't already heard before. To my surprise I was given new insight into why my psychedelic experiences have been the way they are. It also gave me even more reason to believe that psychedelics really do allow us to connect to some deeper consciousness, a divine connectedness. It is a glimpse beneath the veil of our earthly illusions, and the things we think and perceive in these altered states are perhaps more real than the reality our sober minds produce.
I knew that taking psychedelics altered the way our brains perceive the world. I knew that they break down our biases and inner walls so to speak. They remove the shackles of our well worn neuronal connections and allow us the freedom to explore the vast possibilities of our consciousness and perception. What I didn't know is that this brain state is very similar to one we've all experienced before: childhood. Apparently a child's brain works in a very similar way to a brain on psychedelics. Isn't that fascinating? I had often described my experiences with LSD as being a child again in a new world. Nothing is taken for granted. Everything is fascinating and new. There is so much joy and curiosity and discovery to be had.
As children none of us were too enmeshed in certain ways of doing things or seeing the world. There were many more possibilities open to us. As we age, our brains naturally start to sink into patterns, strengthening certain neural networks while allowing other, less used pathways to shrivel and shrink with disuse. Eventually we begin to feel trapped in our ways of thinking and seeing the world. It feels impossible to change or view the world from a fresh perspective. And in reality, while it is still quite possible for us to change, it will be much harder than it might have been when we were younger.
Imagine a cart being pulled over the soft earth. Once you've made tracks in the dirt, it is easier to follow those tracks again. The more you follow those particular tracks though, the deeper they become. Eventually it will be quite difficult to make new tracks or break out of the ones we have been taking. A child's mind is an image of virgin land, no tracks, no footprints even, just a great expanse of possibility and wonder. This is one of the reasons, I believe, that adults tend to enjoy children so much. While our own minds may feel incapable of breaking free of our patterns on their own, spending time with a child is sure to be full of surprises and new experiences. Children have the ability to pull us in new directions we would have never considered on our own. Kids are funny. Kids are weird. Kids are surprising, unpredictable even. That is the magic of a newly developing brain. That is the magic we may all experience again for ourselves with the help of psychedelics.
This comparison to a child's mind helps explain a lot of the experiences I've had with LSD. The idea that psychedelics are able to break down our preconceived ways of seeing the world only strengthens my conviction that the feelings and truths I've experienced in that altered state of mind are real. LSD isn't making me hallucinate or become delusional. LSD helps me to break through the illusions that I live inside of. It helps me see the world for what it is again, through fresh eyes, with the innocence and imagination of a child. I don't for a second believe it's a coincidence that one of the reoccurring perceptions people come away from a psychedelic experience with is that we are all connected. There is a powerful feeling of connectedness, contentment, joy, peace, trust. It is reconnecting with the wisdom of the universe, a deep sense of reassurance that everything is as it should be. There is also the ever present image that everything in life is a cycle, and that it's okay to have faith in and surrender to that cycle. Now more than ever, I feel confident in that belief.