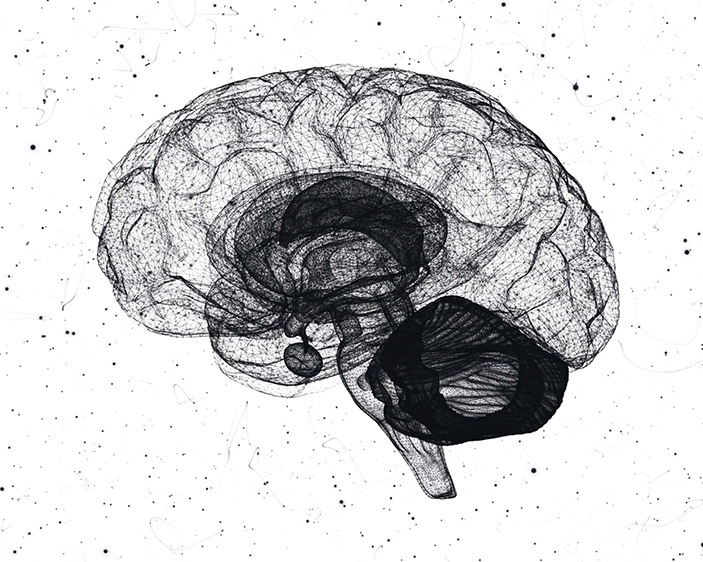 If you haven't heard the term default mode network (DMN) before, you're not alone. Yesterday was the first time I did. Although I still am new to this concept, I wanted to talk about it today. I just wanted to get that disclaimer out first thing. I'm certainly not an expert on this. I hardly know anything about it. What I do know, however, is already enough to enthrall me and make me eager to learn more. So don't take my words here as gospel. Go read about it for yourself.
I first heard about this term while continuing to read How to Change Your Mind by Michael Pollan. If you've read my other posts referencing this book, you already know where this is going. That's right, psychedelics. Scientists have discovered a very fascinating phenomenon in the brains of people tripping on LSD or psilocybin. These psychedelic substances inhibit or turn off the default mode network in our brain.
So what is the default mode network? From what I've gathered, the default mode network includes many different parts of the brain that are active when we are "in our own heads" so to speak. These are the pathways we are using when we are ruminating, daydreaming, planning, remembering the past, contemplating the future, etc. Basically this is the network that is active when we are lost in thought, rather than focusing our attention on something in the outside world. In the book, it also specifies that this DMN kicks on when we are thinking about ourselves.
This aspect of self-awareness encompassed in the DMN is one of the reasons why we are able to experience "ego death" while using psychedelics, which switch off this network. It doesn't appear to be a coincidence that ego death and transcendent experiences are both known to occur while tripping. The DMN, while useful, is also being linked to depression and other mental illnesses. People that spend a lot of time in the DMN are often less happy overall than people that spend less time in this brain state.
I find this very fascinating because it seems to reflect a lot of the advice you hear given to people that are unhappy. "Try to focus on someone else for awhile." "Rather than ruminating, use that energy to help someone you love." "Become a more active part of the community." All of these shifts in focus are actually helpful, but now it seems science is getting a better idea exactly why that's the case. And I don't know about you, but I find it more easy to follow through on advice if I know the facts back it up.
Another thing I found interesting is the idea that social media tends to strengthen the DMN. When we are scrolling through Instagram or checking how many likes we got on our last Facebook post, our brains are in the default mode network. Apart from all the other reasons there are to disengage from social media, this one is quite compelling. No wonder I feel happier and less anxious now that I don't use those apps!
If you're looking for a way to experience the bliss of brain states outside of the DMN, but don't want to take a drug to do so, you can try meditation instead. Surprisingly fMRI scans of experienced meditators and those of brains on psychedelics are remarkably similar. Training our minds through meditation can give us the power to focus. That focused attention in itself is another way to get ourselves out of the DMN. I believe that is why the "flow" state we experience when we loose track of time while working on a task that completely absorbs our attention is so pleasant. It's a great feeling to "lose ourselves" in our work.
I have yet to see any research related to this, but I'm interested to know how the DMN functions in adolescence. I hypothesize that it may play a role in the unhappiness a lot of us experienced during this time in our lives. It also appears to be a time in life when we tend to be the most selfish. We're learning who we are and what we want, finding our own identities. While this is an important and necessary part of growing up, it also requires a lot of self-centered thinking, which as we now know, can lead to a greater sense of dissatisfaction and unhappiness. As we get older and start to think more about others, the emotional turmoil of youth also seems to subside somewhat.
As this term was only coined in 2001, there is still a lot that science doesn't understand about this brain state. A lot more research needs to be done. I'm excited to see what else neuroscience will discover about our brains and how exactly they work in the future. But as I said earlier, I am not at all a voice of authority on this subject. I just couldn't resist sharing the concept and the things I've learned that have got me so excited about it. I highly recommend doing your own research and reading more about the default mode network for yourself. Feel free to correct me if I have misinterpreted, misunderstood, or misrepresented any of the things I've shared about this network. Also Let me know in the comments if you find out anything interesting that I didn't mention.