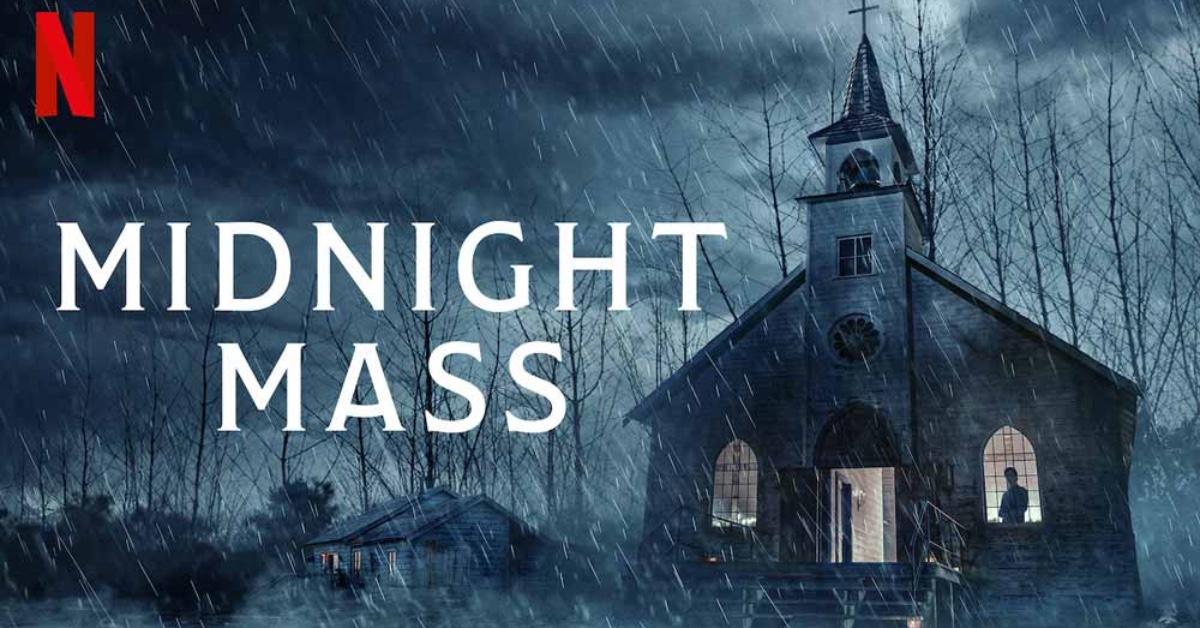 If you haven't watched the new series, Midnight Mass, on Netflix, I highly recommend that you do so. My coworkers have been recommending it to me all week, and now I'm hooked. No lie, this show is captivating as hell. There are so many layers. My favorite part is the philosophical discussions and sermons that take place in every episode.
I find this show super interesting given my history with religion. And that's the part I really wanna dig into today. I was raised religious, Methodist to be precise. I always enjoyed religion as a child. I liked singing in church and how nice our original pastor was. I liked believing there was order to the universe and that there was some all-powerful, all-loving God watching over me, taking care of me. However, when I abandoned my religion, I did so violently. I was so angry, at my parents, at churches, at the world, at a God I no longer believed in. I felt betrayed, manipulated, lied to. In the years that followed my transition to atheism, I was quite militantly against all religion. I hoped to destroy it once and for all. I hoped someday humanity would be liberated from these toxic ideas and organizations.
As that fiery passion of youth begins to fade within me, I no longer hold a torch for atheism. I still don't believe in God, but being atheist isn't such an important part of my identity anymore. I could care less if other people believe or not. I don't have any interest or energy left for fighting a futile battle against religions that have existed for far longer than I have. Also, I'm sure that even if they were to disappear tomorrow people would just find new reasons and justifications for the awful things we do to one another, new things to fear, new ways to suffer.
After allowing that rage to cool within me for a few years, I am now able to look at religion through a completely new lens, a lens of fascination. What the hell is all of this? Where did these religions come from? Why do they all say the same things at their core? What core truths may be hidden amongst the convoluted writings of ancient times? How did we come to these truths as a species? So many questions that I no longer feel a visceral repulsion toward. I no longer feel threatened or afraid. I can look at these bizarre beliefs with a calm, open heart and a curious mind, while still standing firm in my own beliefs (which I'm sure are bizarre in their own way.)
There are two important realizations that Midnight Mass has presented me with. The first is what I mentioned earlier, that all religions (even non-religions) seem to believe a lot of the same things when you cut through all of the fluff. Two characters were having a conversation about death in the show, one religious, one an atheist. I was actually brought to tears by the beauty of what each said on the subject. Ultimately both believed the same thing: Death is a union with all there is, a dissolution of the self. Death is peace and love and never being alone again. An end to all suffering. What a beautiful thought. The details may be different, but the essence, the sentiment is the same. For some reason, I was so comforted by this idea. That no matter who you are or what you believe happens after you die, the consensus seems to be that it is nothing bad, nothing to fear. (Not that any of us can really know.)
The second thing Midnight Mass emphasized to me is that you can make religious texts say anything you want them to say. *Spoiler Alert* This show absolutely stunned me by connecting the ideas in the Bible with the mythology of vampires! The stunning part was just how easily these two things were able to be aligned. Drinking blood, eternal life, resurrection, etc. Even direct quotes from the bible can easily be read in this light. I thought this was a brilliant way to show that we can interpret "the word of God" to support whatever we like. But the power of perspective and interpretation are not confined to the pages of religious texts.
We see the same types of wildly different interpretations today in the media and even with scientific research. Regardless of what you set out to prove, you will find "credible" sources to back you up. And your opponents can just as easily find sources that say the opposite. The aspects of reality that once seemed so concrete are now becoming blurred at the edges, abstract, arbitrary, subjective. It's kind of scary, but it's also amazing to witness. There is a level of chaos and misunderstanding in our society today that I didn't think possible.
I'm not quite sure what the overall theme or message of this post is exactly. I suppose I just wanted to share some of what's been on my mind lately. I am grateful and humbled by the vast changes that have taken place within my own consciousness during the last decade. What a gift it is to be freed from that burden of fear and hatred toward such a huge part of the world around me. What a joy it is to have the peace of mind to explore what was once a trigger for me. I can't wait to keep changing and exploring and learning and growing. There is never a dull moment in the fantastical, baffling world we live in.