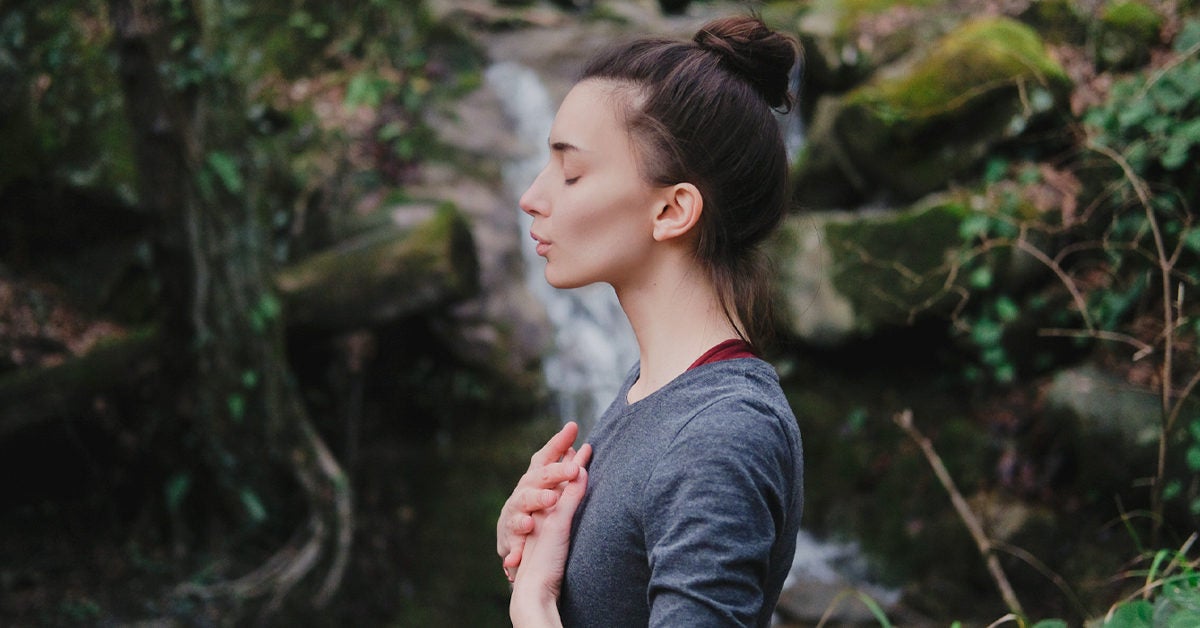 Stop whatever you are doing and take a moment to just notice your breath. Don't worry about changing it, just observe how you breath when you aren't paying attention. What is your breath like? For me, at pretty much any given moment unless I'm doing yoga, my breath is painfully shallow. Often I'll notice that I've actually been holding my breath! I particularly notice this tendency when I'm feeling anxious.
For most of my life, I never thought about breathing at all. Breathing is unconscious, it's a reflex, our bodies are taking care of that for us. These are the things I remember learning when I was growing up. Without yoga, I never would have learned the power that is held inside of my breath. I had no idea that we had the ability to retrain ourselves to have more beneficial breathing patterns or that the breath had any significance besides keeping us alive.
Society tells us that we need all of these magic fixes for our depression, anxiety, fatigue, etc. We medicate and distract ourselves, doing anything to avoid the signals our bodies are sending us. We are never taught how to value and honor our breath for the miracle that it is. In my opinion, pranayama (breathwork) is one of the most advanced aspects of yoga and also the most important.
Living in a world of excess, it seems impossible that there could be so many life changing benefits from something as simple as breathing. Yet there is a breathwork practice for anything that you may want to achieve. Through the power of our breath we can energize ourselves, we can calm our nervous systems, we can elevate our mood, we can cool ourselves down, warm ourselves up, we can even experience altered states of consciousness! And we can do all of this for free, regardless of where we are, regardless of who we are. If you're living, you can practice pranayama.
Unfortunately, I am still far away from unlocking the full potential of my own breath. Even after years of yoga and meditation, I am still working on just being able to notice my breath as I move through my day. I've particularly been trying to focus on checking in with my breath when I feel anxious. When our sympathetic nervous system (fight or flight) kicks on, the body naturally makes our breath quick and shallow. It is under the assumption that it needs to prepare to either flee or attack whatever threat may be nearby. However, this is supposed to be a short-lived experience. When we find ourselves perpetually in this heightened state, we start to experience various mental and physical health issues.
Interestingly enough, this feedback loop works in both directions. Our mind is usually the one running the show, telling the body it's time to act. The body has just as much control over the mind though. If we can learn to recognize our stress response, we can override it with our breath. Now, this is no easy feat, and it definitely takes a lot of practice, but it is worth it. Don't give up. Keep practicing and eventually we can all cultivate a beautiful symbiotic relationship with our own breath.
There is so much pleasure to be found in the simple act of breathing. One of the most valuable parts of my last acid experience was finding a stronger connection to my breath. As I laid in the grass with my boyfriend, enjoying the sun streaming down through the leaves above us and listening to the hum of locus in the background, I became intoxicated with the feeling of my own inhales and exhales. Each sip of air felt incredible, fresh oxygen, the gentle expansion of my lungs. Each out breath was a gorgeous release, a cleansing. I could have spent the whole evening just savoring my own breathing.
That experience has stayed with me since then. I am still able to tap into that sense of gratitude and wonder as I breathe. My breath alone can be better than any drug or addiction out there. And it's mine to enjoy whenever I wish without consequence. I've even come up with a little visualization that helps me get back in touch with my LSD experience. I think it would work well for anyone who has been or still is a smoker.
As you breath in, just imagine you are taking a nice long, delicious drag off of a cigarette, vape, or joint. I genuinely think one of the reasons humans seem to enjoy smoking things so much is because it allows us to slow down and focus on our breath for a few minutes. You may even find it helpful to visualize the air as smoke moving in and out of your body. This would be an excellent visualization to try the next time you find yourself holding your breath or breathing very shallow.
Wherever you may be in regard to a pranayama practice, for the rest of the day, just try to come back to your breath whenever you notice yourself feeling anxious. Are you holding your breath? Is washing the dishes really that unpleasant or is it because you are unconsciously trying to not breath until you're finished? No matter what is sparking that anxiety in me, checking in with my breath is always a huge help.
Let me know what your experience has been like regarding breathwork. When did you first realize the significance of the breath? What are some of your favorite pranayama practices? If you decide to try my little visualization, let me know how it went for you.