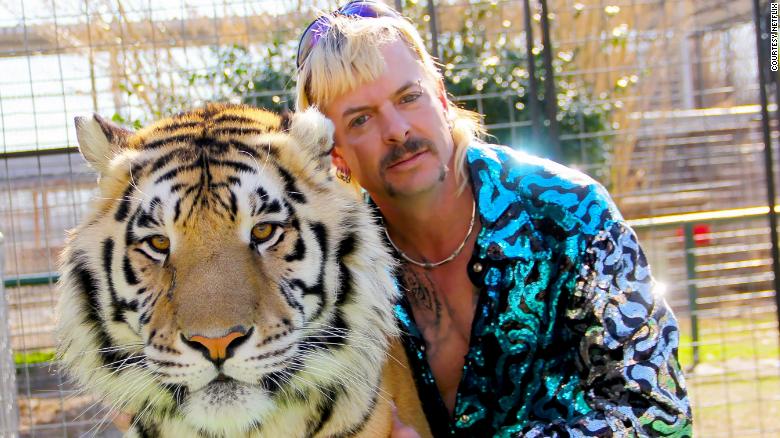 The new season of Tiger King is out on Netflix and once again it's all everyone can talk about. But the part that no one is talking about is the unbearable hypocrisy it exposes. There are so many layers of hypocrisy in fact, that I don't even know where to begin. I suppose I'll start with the mind-blowing disconnect that Jeff Lowe demonstrates when, in reference to Joe Exotic, he says: Two years is an awful long time to spend in a cage. My jaw dropped at this. He did not even flinch at this comment as dozens of big cats pace back and forth in cages he put them in just off camera.
Clearly the men and women working at these zoos don't comprehend the immorality and cruelty of what they are doing by keeping and breeding these animals. One woman even went as far as to say: How could this be wrong when it makes so many people happy? With complete disregard for the happiness and wellbeing of the animals providing that happiness to humans. Even Joe Exotic himself, who on multiple occasions seems to acknowledge the suffering he has inflicted on these animals by keeping them on his property, still insists that the government is "out to get them" and wants to shut down all of these little zoos.
Now I've come to expect comments and mindsets like these. Humans are the only beings that matter and we can use and abuse every other living thing as we please because we're the best. I see this written on the face of most people I meet in this world. They wear this opinion almost like a badge of honor, despite how disgusting it truly is. But what surprises me more is the people that go out of their way to fight for the rights of these big cats, spout all of these noble flowery ideals, then go home and eat a steak. I just don't know what to do with that.
I cannot comprehend where these people draw the line. Why does a tiger deserve freedom and happiness, but a cow does not? Why should a lion's suffering matter if the suffering of a pig even being mentioned causes scoffs and eye rolls? Do these people even think about this? The longer I am vegan, the less I understand this painfully obvious hypocrisy. What is the distinction being made between farmed animals and exotic animals, between exotic animals and pets? Why is cow meat an acceptable, "healthy" meal, but horse meat is an abomination? IT MAKES NO FUCKING SENSE!
The only difference between these animals is what humans think about them. I don't think anyone would actually say this, but it seems like the only animals people deem worthy of protection and compassion are animals that we like, animals that bring us some kind of pleasure (non-gustatory pleasure that is.) But what a fucked up distinction to make. The selfishness, the narcissism of human beings knows no bounds. It makes me want to grab the entire world by the shoulders and shake them.
I want so desperately to have a real genuine conversation with my meat-eating friends about this, but by now I know better than to even try. It has always just turned into a big joke when I've attempted to have this discussion in the past. Well pigs are so tasty though. *laughter* Cows are too stupid to suffer. *chuckle* What other purpose do those animals even have besides being food? *snicker* The cognitive dissonance is so thick that no one is able to be serious on these topics. All my past attempts to talk about this have ended in mockery (by others) and fury (on my part).
People have been so conditioned to disregard farmed animals that even comparing them to other protected groups is taken as an egregious insult. Since the black lives matter movement began, I've been tempted to co-opt the idiotic "all lives matter" counter argument by making a shirt with those words alongside the image of a pig, cow, or chicken. It's as if these people don't even consider other beings as lives at all. The thought would never even enter their heads. However, I don't act on this impulse because I know it will only cause people to hate me and think I'm a bigot. Oh my god, she is equating black people with animals! They'll say with disgust. The point I'm trying to make with these arguments only results in people doubling down on their disregard for animal rights.
Since I've stopped my SSRI and am able to feel my emotions deeply again, these topics are almost too much to bear. It brings me to tears whenever I see veganism as the butt of so many well-received jokes. How can you laugh?! How on fucking earth can the suffering of these beautiful, innocent, sentient beings be funny to you!? The sheer weight of the knowledge of the billions of animals in unbearable, unimaginable conditions right now is enough to crush me entirely. I am ashamed to be part of the species that has created and perpetuates such atrocities. My mind flashes with images from documentaries like Earthlings as the world laughs at me. I feel so worthless, so useless that I can't save them. I want to beg the God I no longer believe in to please help them. I want to throw myself at the feet of these animals and ask them for forgiveness that I know I don't deserve. I would sacrifice my own life to end their pain. I would do it happily. But I guess that's just another joke, isn't it?